Aidan Willows takes us back to
STARLING FALLS
in the second installment of this charming small town series.
Jacob Jameson is having a tough time lately. Nikki the girl of his dreams is avoiding him. Someone sabotaged his restaurant resulting in a scathing review. With his reputation in ruins, and the owner deciding to close the restaurant permanently, Jake is thinking of taking a job that will send him to Chicago and away from his family and Nikki.
Nikki can't remember what happened between her and Jake on New Year's Eve, but she knows she must have made a fool of herself. She's been hiding behind mailboxes and abandoning shopping carts all in an effort to avoid Jake and keep her crush on the hot chef a secret. When she sees him looking unusually downtrodden at a family party, she knows she needs to go see what she can do to help. That's what "friends" do after all, right?
When Nikki makes a suggestion about Jake's future, he sees an opportunity to woo her. What better way to win a girls heart then have her helping you make your dreams come true...
"What do you have against clowns?" "You know who chooses to become clowns, Jake? Sociopaths, that's who! Don't let the friendliness and balloon animals trick you into thinking they're nice. They're not. They are evil creatures."
The majority of my four stars rating for this one is all because of the secondary characters and how the hero and heroine interact with them. That is really the
gold
in this one. The Jameson family is FUNNY and sweet, and reading these characters interactions with each other is a purely delightful experience. There are SO many side characters that have great potential for future heroes and heroines. I am super excited that Nate's book is next. Nothing I love more than a damaged brooding hero.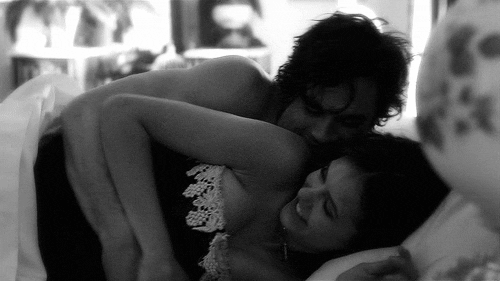 That said...unfortunately the relationship between the hero/heroine lacked something for me. I don't know if it was because SO much was going on around them story wise or the fact that is is over 2/3rds into the book before they actually have sex. I just didn't feel a spark between these two like I did with the couple in the first book. I loved Jacob, but he didn't come close to being the "alpha" Caleb was. Much to my disappointment. And Nikki's insecurities drug on too long in my opinion. Plus there were a couple "one month" time jumps that made the lack of progress in their relationship even harder to understand. I dunno, I just didn't "
feel
" them as a couple.
"Ruined." I heard him mutter. "What?" "You've ruined me. Nothing can ever compare to what we just did. There's never going to be anyone else for me."
I also had an issue with how the whole restaurant sabotage storyline was wrapped up. Mostly that is WASN'T. One mild confrontation with the culprit and Addie and Josh doing something, and we never get a resolution. I was hoping for the "baddies" to get a little police visit or something a little more drastic and permanent than what actually happened. *shrug*
So overall I enjoyed this one for the awesome family feel, the humor, and the amazing secondary characters. Was disappointed in the Jake's and Nikki's relationship and the way some storylines were left. It also needed a better epilogue. Though I am sure we will be hearing from this couple again in Nate's book.